Learn a new fusing technique where you will learn to collage with fabric and Angelina Fibers creating your own "Free Form Design". Create a unique, piece of wall art you will enjoy for many years to come. With the proper instruction, the process is simple & fun.

A list of supplies will be provided.

Cost of the pattern: $10.00. Attendees can purchase a kit at Flash in either Red, Green or White at a cost of $14.99.
Special Note: you might want to bring your own accessories: buttons, costume jewelry, etc to embellish your tree
Traveling in from out-of-town? We've got you covered...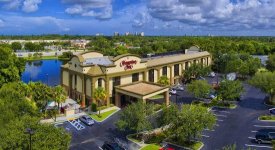 HOTEL INFORMATION

The Hampton Inn & Suites by Hilton is located approximately 1 mile north of our Showroom on Tamiami Trail. We have negotiated a Corporate Discount for our out of town guests with rates as follows:
Two Queen Size Beds: $84.00 – Breakfast is included
One King Size Bed: $84.00 – Breakfast is included
You can book your rooms by clicking HERE