These embroidered stockings will thrill and delight everyone and become cherished keepsake memories for you and your family.
Each of these machine embroidered designs are filled with lacework and lightweight pattern fills that make the embroidery process smooth and fast. Whether you are a beginner or advanced embroiderer, you'll learn a thing or two, for sure!!
Students will learn to personalize each stocking by bringing in a name from the embroidery module, position and resize it for a perfect fit.
The stockings are fully lined.
Learn Claudia's technique for perfect multi-hooping! All machine brands are welcome. Must have a hoop that can accommodate an 8" wide x 12" long design.



Traveling in from out-of-town? We've got you covered...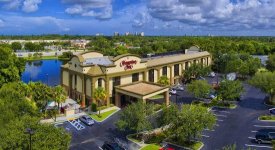 HOTEL INFORMATION

The Hampton Inn & Suites by Hilton is located approximately 1 mile north of our Showroom on Tamiami Trail. We have negotiated a Corporate Discount for our out of town guests with rates as follows:
Two Queen Size Beds: $84.00 – Breakfast is included
One King Size Bed: $84.00 – Breakfast is included


You can book your rooms by clicking HERE
(You must use this link to get the Flash Sew & Quilt Corporate Pricing)