Bring your embroidery machine and embroider any "Sew with Joe" project during this one-day event. Joe will be present and available all day to assist and give pointers and tips to help you succeed.
This special one-day retreat with Joe is sure to be fun mixed with educational tips. As so many of you know, Joe is a wealth of knowledge and is genuinely so helpful. Be sure to grab your spot now as seating will be sure to go fast!

Please come to class with all materials needed for your projects, and design files on a usb flash drive. It is recommended to bring the PDF instructions for any project you plan on making.
The PDF instructions for any Sew with Joe project includes all required materials for that particular project. Use the PDF instructions to gather materials and prepare for class.
If you do not own the Sew with Joe Project that you want to work on in class, you can purchase a subscription or individual projects on sewwithjoe.com . Please download all of your desired project files from sewwithjoe.com prior to class, as they include the pes embroidery designs and pdf instructions you will need.
Joe also recommends bringing general sewing/ embroidery supplies, along with a usb flash drive and inexpensive corded (not cordless) computer mouse.

Students must bring one of the following embroidery machines:
Solaris, Luminaire, Destiny, Altair, Meridian, Dream Machine or Stellaire.


Traveling from out-of-town? We've got you covered...

HOTEL INFORMATION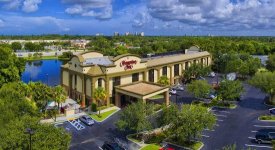 The Hampton Inn & Suites by Hilton is located approximately 1 mile north of our Showroom on Tamiami Trail. We have negotiated a Corporate Discount for our out of town guests with rates as follows:
Two Queen Size Beds: $84.00 – Breakfast is included
One King Size Bed: $84.00 – Breakfast is included
You can book your rooms by clicking HERE