Skip Navigation
Website Accessibility
BERNINA B790 E Plus Crystal Edition
Quantity:

This item is not available for purchase online. Please call (239) 304-8387 to order.

BERNINA 790 PLUS Crystal Edition – Illuminate Your Creative Spirit
Get inspired by the sparkle of crystals! The B 790 PLUS Crystal Edition will charm you with real Swarovski crystals and the beguiling set of additional accessories, including the new high-performance embroidery module with BERNINA Smart Drive Technology (SDT).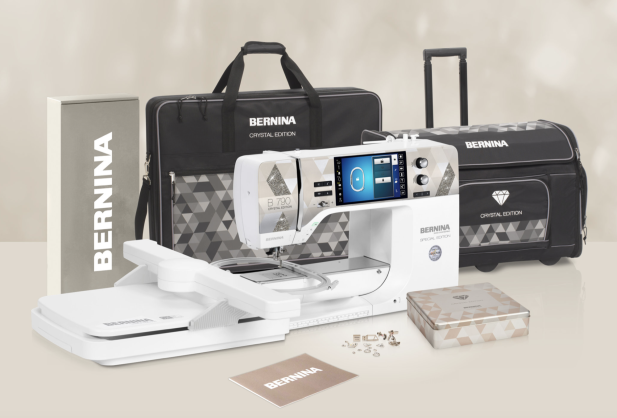 Glamourize Your Sewing Room
Exclusive shimmering faceplate
Adorned with real Swarovski Crystals
Puristic, yet very elegant design
The faceplate and the service panel are designed in an exclusive geometric white-and-beige pattern and embellished with dazzling crystals from Swarovski.
The B 790 PLUS Crystal Edition adds glamour to any sewing space!


Get Inspired By Shining Crystals
Real Swarovski Crystals to sew on
USB Stick with 300+ Embroidery Designs
Edgestitch Foot #10D and Button Sew-On Foot #18
The Crystal Edition Inspiration Kit features a wide variety of sew-on Swarovski crystals, the Edgestitch Foot #10D and the Button Sew-On Foot #18. The elegant tin box also contains a USB Stick with over 300 embroidery designs, including 35 exclusive Crystal Edition designs, which adds that little glitz to your project.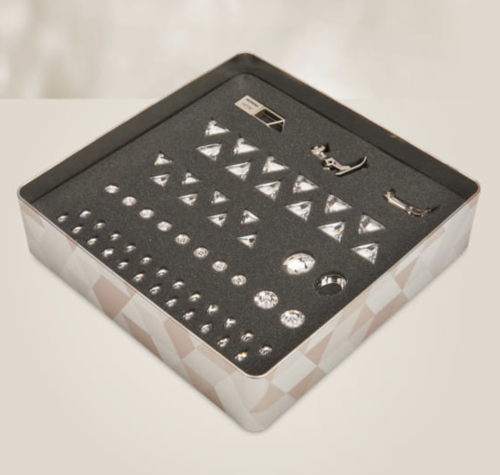 Additional Presser Feet Included
Edgestitch Foot #10D
Button Sew-On Foot #18
Must-have presser feet
The Edgestitch Foot #10D is a practical help for sewing finished edges even and straight. The Button-Sew-On Foot #18 is the perfect tool for easy sewing of buttons and decorations. Thanks to the help of both presser feet, you will be able to let your garments shine even brighter.


Eye-catching Suitcases Included
XL Trolley
XL Embroidery Module Bag
Exclusive Crystal Edition Design
The advanced padding system and the high-quality outer material will provide thorough protection for your B 790 PLUS Crystal Edition machine and the embroidery module.


Sew Silk & Leather Like a Pro
Handle special materials with ease
Enjoy superb fabric feed
Optimum visibility while sewing
The innovative BERNINA Dual Feed is easily engaged when needed and tucks completely out of the way when it's not.


Automatic Features Are Yours!
No manual cutting at the end of a seam
Enjoy semi-automatic threading
No manual lowering of the presser foot
Thread is cut automatically when you reach the end of a seam or a color change in embroidery. The presser foot lowers automatically at the beginning of a seam.


Quiet & Precise Sewing
Ideally suited for decorative stitches
Sew & embroider even longer
?More time for your creativity
The BERNINA Hook sews high-precision stitches up to 9 mm in width with speeds up to 1,000 stitches per minute. The bobbin holds 70% more thread than standard bobbins.




Enhanced Editing
Undo & Redo steps while editing
Group & Ungroup designs
Rearrange designs
Undo or redo steps while editing or combining designs to return to your initial position. Combine designs to edit all at one time with group. Break apart designs to edit individually with ungroup. The design layer stitch-out sequence can also be customised.


Create Your Personal Stitch
Design & create your own stitches
Draw your stitch design directly on the screen
Convert the design into a stitch pattern
Edit stitches and create your own by drawing your ideas right on the touch screen. At the touch of a button, your design is converted into a stitch pattern. The creative possibilities are endless and your stitch library is continuously expanding.


Total Embroidery Stitch Control
No more manual trimming on the top side
Invisible securing stitches
Smart tie-on/off stitches
Threads are automatically pulled down thanks to the Thread Away Mode. The Smart Secure function conveniently adds tie-on/off stitches to a design if none are pre-programmed. And the Invisible Secure makes the tie-on/off formation completely invisible.